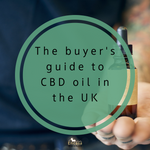 CBD has become a tremendous hit over the past few years, with more people using and selling CBD oil in the UK than ever before. 
The growing use of CBD oil in the UK has led to a product boom, giving you a vast selection of CBD products and retailers to choose from. 
Where do you start?
Here. This buyer's guide to buying CBD oil in the UK covers everything you need to know about making your first CBD purchase or changing your CBD supplier. 
Let's jump straight in. 
Back to basics: what is CBD?
If this is your first time buying CBD oil in England, Scotland, Wales or Ireland, you might want to know a little more about CBD and what CBD oil is. 
What is CBD?
CBD stands for cannabidiol and is a chemical compound found in the hemp plant, alongside over 120 other compounds (known as cannabinoids). 
The human body naturally produces endocannabinoids that help us regulate certain bodily functions such as digestion, sleep, mood and appetite. Cannabinoids from hemp, such as CBD, supplement our natural endocannabinoids, producing certain wellbeing effects. 
What is CBD oil?
CBD is extracted from the hemp plant either by hand, oil, solvent or CO2. Once extracted, CBD is added to a final product - typically an oil - for easy consumption. 
You can take CBD oil by placing a drop under your tongue for 60 seconds and then swallowing. Alternatively, you can add it to food and drink. 
What are the benefits of CBD oil?
Different users experience different benefits when using CBD oil, with some people experiencing stimulation and others relaxation. Other reported effects include improved sleep, sports recovery, relaxation and mood. 
Learn more: 5 things you need to know about CBD
Buying CBD oil in the UK
CBD oil is legal to buy in the UK, as long as:
Recap: THC is another cannabinoid found in the hemp plant and it causes the high, often associated with cannabis oil. CBD products with THC levels over 0.2% are illegal in the UK. 
When buying CBD oil in the UK, it's important to look for a CBD seller that tests and guarantees the THC content of their products. 
Choosing the right CBD product
This article focuses on buying CBD oils, but as mentioned, you can also buy CBD in other formats including:
The best CBD product for you depends on your lifestyle and preferences. Some users like to start with edibles or topicals, while other users like to jump straight in with CBD oils and e juice. 
The different types of CBD oils
Full-spectrum vs broad-spectrum CBD oil
There are two types of CBD oil in the UK: full-spectrum and broad-spectrum. 
Full-spectrum CBD oil contains CBD alongside other compounds from the plant, including CBG, terpenes, chlorophyll and a small amount of THC (under 0.2%).
Broad-spectrum CBD oils contain CBD alongside other compounds such as CBN, CBG, terpenes, and chlorophyll, but contain 0.0% THC. 
You may also have heard of CBD isolate. CBD isolate is a crystal form of CBD and contains no other cannabinoids or THC. You can suspend CBD isolate in your own oil to take in the same way as full-spectrum and broad-spectrum oils. 
CBD oil flavours
CBD oil is usually unflavoured but has a hemp-like taste. 
If you don't like the taste of hemp oil, you can choose a flavoured CBD oil, such as our popular Fruit Punch flavoured CBD oil. Alternatively, CBD isolate has no hemp-like flavour. 
Understanding CBD oil strength and dosage
CBD oil comes in different strengths, and certain people will have a higher tolerance than others, especially when taking CBD oil for the first time. 
CBD strengths range from 100mg to beyond 5,000mg for a 30ml bottle. The higher the strength, the more mg of CBD you receive per drop. 
If you're new to CBD, we recommend starting with one drop of 500mg CBD, twice per day (that's approximately 1.5mg per drop) and doubling the dosage each week up to your desired amount. Note that the maximum recommended daily dose is 200mg and, as with any supplement, it's important to consult your doctor first. 
Further reading: Figuring out the perfect CBD dosage for your lifestyle
What to look for when buying CBD oil in the UK
Anyone can sell CBD oil in the UK, so it's crucial to find a reputable supplier with high-quality, legal products. 
The key things to look for when buying CBD for the first time are:
Seller reputation
Choose a CBD brand with a professional website, clear contact details, product guarantees and competitive pricing. You want to look for products that are within your budget, but not so underpriced they compromise on quality. 
User reviews
CBD oil reviews tell you everything you need to know about the quality of a brand's products and customer service, especially reviews from industry experts such as ISMOKE magazine. Look for positive ratings and reviews on a retailer's website and across the internet. 
Product information  
There are certain CBD oil qualities that indicate better brands of CBD, including:
Lab testing and certification

Details of where the hemp is grown 

Information on CBD extraction

Organic properties (whether pesticides or chemicals are used). 
What to look for in a premium CBD oil
If you're treating yourself to a premium CBD oil, look for a premium flower product (such as A-grade white widow flower) that is extracted from the flower only. This distinguishes the product from commercial-grade oils. 
Final thoughts
Buying your first CBD oil in the UK is an exciting experience and one that should be positive. We hope our guide to buying CBD oil helps you make the right choice at the start of your CBD journey. 
If you have questions, get in touch, and if you want to learn more about anything covered, follow our blog or sign up to our newsletter below. 
--------
About Encasa Botanics
Encasa Botanics is a premium CBD oil seller in the UK, providing a wide range of high-quality CBD oils and products. 
We pride ourselves on being the go-to-brand for CBD users and only selling products that we genuinely love ourselves.