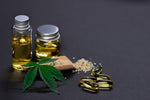 Whether you're new to the concept of CBD oil or a seasoned user who's considering changing things up a bit, you should know there's a number of ways to consume CBD.
The fact that dropping CBD oil under your tongue is perhaps the most reliable and popular method of CBD consumption, there's an unquestionable buzz surrounding CBD edibles as well. 
With an assortment of colourful candied gummies and our personal favourite, CBD honey straws hitting the shelves, when it comes to how consumers take cannabidiol, CBD oil consumption is no longer the reigning champion. 
All things considered, when it comes to CBD oil vs CBD edibles, you may be confused as to which one's the best for you. In this blog, we have tried our best to address all the relevant queries related to CBD oils vs edibles. 
Let's dive in and take a look at the key differences between CBD oil and CBD edibles!
CBD Edibles and CBD Oil - Factors You Need to Consider
As both edibles and oils are consumed differently, you'll be surprised to learn that each brings the user a different type of experience. Irrespective of whether you're at home or on the move, this does not change the fact that both offer a hassle-free and straightforward method of using CBD. 
Both oils and edibles are regarded as the two most popular forms of CBD, it can be a bit difficult to make sense of the main differences between them. As the experts in the realm of CBD, at Encasa Botanics, we've explored a few points of distinction to help make your decision easier. 
Let's delve deeper into the key features that make these forms of CBD different from one another:
Bioavailability
When debating about CBD oil vs CBD edibles like CBD gummies and honey straws, you need to know that all forms have different levels of bioavailability. Put simply, CBD consumed in these varying forms tends to be absorbed in your system at a different rate and speed. 
With edibles like gummies and CBD honey straws, you can only eat them or stir them in a hot drink or squeeze the honeyed extracts into your favourite foods. This way, the CBD is absorbed by your digestive system before the enzymes in your liver break it down further. The entire process can take anywhere between 1 to 2 hours before you feel the effects of it working in your body. 
On the other hand, CBD oil is comparatively more adaptable as it works much quicker depending on how you consume it. You can digest it orally or you can stir a few drops in a beverage of your choice and consume it as you would its edible counterparts. 
Although, if you consume it by holding it beneath your tongue for around 30 seconds, it will enable the tiny blood vessels in your mouth to absorb it at a faster rate. It will take around 20 minutes to start working. If you are looking for faster results, this is a much more convenient way to take CBD. This method is ideal for people who are looking to relieve any type of inflammation or pain. 
Flavour and Taste
In our opinion, the flavour of your CBD matters just as much as its bioavailability. You don't want to retch or get sick after you consume it. If it works for you, consider adding unflavoured drops into your drinks, smoothies or food as a more effective means of cannabidiol consumption. For this, our range of CBD isolates and extracts is ideal. 
For a more fun way of consuming CBD, gummies and honeyed straws are your best bet, especially if you enjoy mixing things up a bit and experimenting with flavours, foods and drinks. 
Portability
If you are on the go, CBD straws and gummies are the ideal choices simply because they are much more convenient, not to mention discreet as well. CBD oil, on the other hand, isn't as transportable. You can still make it work though as you can squeeze a drop or two in your coffee or soup if it's convenient for you. 
Order CBD Products of Your Preference from Encasa Botanics!
From CBD vape e-liquids to CBD accessories and topicals, at Encasa, we have a range of CBD products to suit your needs and methods of consumption. When deciding which form is best for you, be sure to factor in ease of use before making a final decision.
Click here to start adding our premium range of CBD products to your cart!