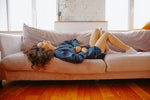 In the past few years, the word CBD has become quite prominent with it being suggested and recommended by many medical practitioners and professionals. From relieving pain and tackling insomnia to uplifting mood and alleviating stress, CBD has proven helpful in various areas.
However, these aren't the only ways CBD can be used. 
Another important body ailment that has been discovered to heal better with CBD, is inflammation. But before we proceed with that, understanding what exactly inflammation is can help you understand the right way you can use CBD to treat it.
At Encasa Botanics, with our vast experience and knowledge about CBD and its products, we know how effective, safe and beneficial this can be for people of all ages. 
With this in mind, we've put together a short guide on the basics of this ailment and how to reduce inflammation.
So without further ado, let's dive in.
What Is Inflammation?
Inflammation is a process in which your body fights against any toxins, infections or injuries that may harm it in an attempt to heal itself. Whenever something foreign in our bodies damages our cells, a trigger response in our body releases chemicals that tackle these invaders and kicks off healing in the body.
This swelling (inflammation) is a part of the body's healing process. However, this is not the only reason behind the swelling. 
If your immune system kicks into action without any infection or hurt, the cells that protect us target our organs, arteries, and joints. Over the long term, this can have damaging consequences.
How To Reduce Inflammation?
The best way to prevent inflammation is to include anti-inflammatory foods in your diet and adopt a healthy lifestyle. Including more food that prevents inflammation in your diet, controlling blood sugar levels and exercising are few ways to naturally heal your body and avoid any swelling.
With such natural approaches though, the time taken to heal and recuperate may be a little longer. This is because every action that occurs in your body is organic. In such cases, if you're experiencing increased and consistent pain and discomfort, you might need to adhere to additional options to make the process a little easier for your body. 
This is where CBD comes in.
Several studies have highlighted the positive effects of CBD in dealing with chronic pain and alleviating stress to improve an individual's overall mood. With the use of CBD for more complex treatments such as cancer, considering the health benefits that CBD might bring to you makes it definitely worth using.
The Benefits Of CBD Oils And Related Products
https://www.encasabotanics.co.uk/collections/premium-full-spectrum-cbd-oil-uk/products/premium-full-spectrum-cbd-oil-5-percent-10ml-uk
CBD is a non-toxic, non-addictive relief method that can help people deal with any kind of pain. The process behind how this works is simple to understand.
The body's cannabinoid receptors regulate bodily functions. CBD indirectly interacts with these receptors to calm you down and make things a little easier during the recovery process. This works if you are suffering from any type of pain, nausea, anxiety or other discomfort.
While many people usually associate CBD with the 'entourage effect', the low levels of THC are in accordance with the legal dosage. This means that the consumption of our CBD products will bring about the positive effects that people expect with the cannabis plant, but without the associated high.
Moreover, due to the various medical benefits and ongoing research around the uses of CBD, at Encasa you'll find a range of products such as CBD oils, Vape e liquids, and edibles that are suited according to your needs. 
Aside from these, using CBD will provide you with the following benefits -
Using

CBD reduces anxiety

, depression, and various other mental health disorders

CBD helps deal with other illnesses including nausea

Coping with injuries, especially for athletes, becomes easier with CBD products and is also recommended by many 

CBD is also said to have neuroprotective properties and improves heart health
That said, CBD is known to interact with several medications. 
By using products with a low THC level and consulting appropriate experts or medical practitioners, you can find a product at Encasa that will help relieve a range of inflammatory pain and any other discomfort you may be experiencing.
Encasa Botanics - Explore Our Range Of Quality CBD Products
Now that you have a better understanding of how to reduce inflammation, you can consider trying out beginner-friendly CBD products at Encasa!
From CBD edibles and oils to Vape e Liquids and accessories, we have a vast collection of quality and safe CBD products that are easily accessible and can be used by many.
To find out more, get in touch with us today!