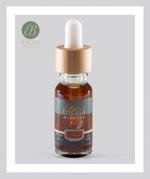 If the last 18 months have highlighted nothing, it's that we live in a world surrounded by uncertainty. When we stop to consider it, it shouldn't come as a surprise that many of us are living incredibly busy, stressful lives. 
Let's be honest, we were already drowning in everyday worries of our personal and professional lives. As if that wasn't enough, we had to deal with the pandemic this past year and come to terms with the "new normal".
The bottom line - it's been tough!
Encasa Botanics to the Rescue!
Anxiety stems from stress we deal with on a day-to-day basis. You already know this, but being stressed and anxious is only going to bog you down. This means, you need a reliable solution to bid your poor mood adieu and say hello to the wonders of being alive and well. 
At Encasa Botanics, we're here to step in and help you reduce your stress with CBD oil! Pair this with a healthy lifestyle, change for the better and you can work wonders for your mental health and mood! 
Wondering how you can reduce stress with CBD oil? 
As experts in the field, we can assure you that CBD has a myriad of therapeutic benefits that can uplift your mood and alleviate stress levels.
Let's take a look at how our CBD oil collection can help you say goodbye to that niggling, anxious feeling!
 Help Alleviate Your Mood
With all the stresses we tackle everyday, a bad day can snowball into a bad week or even month in no time. You might end up having heated arguments with your loved ones, not to mention taking a hit on your productivity. When you are unable to rein in your mood and address it at a core level, you're in danger of facing anxiety-related consequences down the road. 
Our premium full spectrum CBD oil can help ease the stresses of your life whilst at the same time alleviating your mood by appealing to the serotonin and adenosine receptors in your brain. According to this study, we can see how you can ease and reduce stress with CBD oil for a more restful and relaxed state of mind. 
For youngsters or beginners, a great alternative to CBD oil is the CBD vape e liquid. Available in different strengths and flavours to suit your needs, it's selling fast, so be sure to place an order, today!
 Enhance Your Quality of Sleep
If the stresses of life keep you up at night, you may have accumulated a fair share of sleep debt. Irregular and erratic sleeping patterns are a sure-fire sign of anxiety and stress. 
If you don't catch up on your sleep debt, your overall physical and mental health can be disturbed, often leading to further deterioration of your well being. You might notice that you feel agitated and anxious more often than usual, not to mention physical and mental fatigue that follows. 
If you don't improve your quality of sleep, there's a chance that you could end up being diagnosed with insomnia. CBD oil has emerged as one of the top contenders for improving sleep without a prescription, with calming effects to help quieten your central nervous system. 
When you get the required amount of restful sleep, your body will naturally work towards freeing you of any latent stress and make you feel more energetic and strong! 
When you start sleeping well, you ward off illnesses linked with anxiety and stress and keep your immunity levels high. Say goodbye to high blood pressure, panic attacks, agitation and distraction with CBD oil!
 Ease Pain-Related Stress
Many of us are guilty of leading an ever more sedentary, couch potato lifestyle. Couple this with a huge increase in work from home culture, our level of activity is at an all time low. This paves the way for muscle strain, body aches, inflammation and many other short and long term health issues. This accumulation of physical and emotional stress can very often translate into Generalised Anxiety Disorder or GAD. 
If you've had an ache or pain that you've not been able to shift, there's a possibility that it may be chronic, which can lead to further stress and discomfort. 
CBD oil has been shown time and time again to alleviate all manner of physical and psychological pain. Help ease your pain and inflammation with the help of the scientifically back medicinal properties of CBD. 
We hear all the time from those who have tried everything else and after taking CBD start to feel pain release within the first few days.
Reduce Your Stress Levels With Encasa Botanics!
While it may not be possible to avoid the anxiety and stresses of life all the time, how we deal with that stress is something we can impact. 
Our collection of CBD oils promote better and enhanced physical and mental health, without the side effects. Of course, we do not recommend injudicious and unregulated use of CBD oil as a "one size fits all" solution, but for those who need a helping hand, Encasa Botanics is here.
Leave behind the doom and gloom, the aches and pains, the daily stresses with Encasa Botanic's CBD oil, in conjunction with a healthy lifestyle.
If you remain skeptical or would like any further information, please feel free to email us at info@encasabotanics.co.uk and we'd be delighted to help!
Also be sure to check us out on Instagram at @encasabotanics!